Bushwick to Flatbush
After living in Bushwick for 5 years (well, 4 for me), Kara and I packed things up and moved out to the crossroads of Flatbush, East Flatbush, Flatlands, and Midwood. I suppose we're technically in East Flatbush, but I love the sound of Bushwick to Flatbush (and it made for a fun graphic).
Louise was the one that inspired the idea for the lettering piece below. As we were talking about my upcoming move, she had made a comment about how the two neighborhoods would make for a great moving announcement.
Admittedly, a moving announcement in this day and age feels a little silly. It's not going to be printed out. It won't be mailed to any one. I don't really need to notify any of my friends. So it would really only live on social media. But you know what? That's fine! It seemed like a fun idea, and I hadn't done any lettering in a while, so I threw myself into it.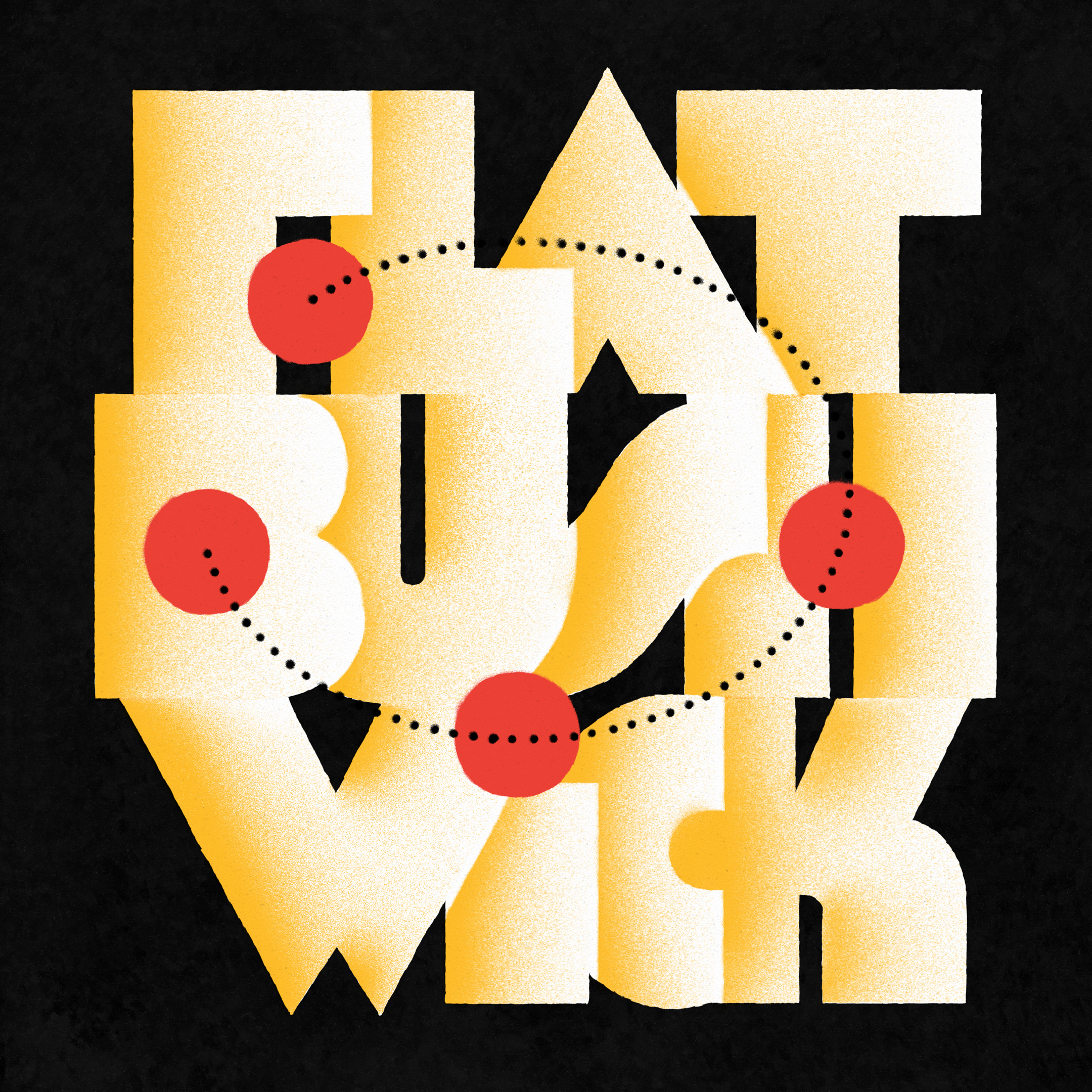 There isn't much concept to this piece. I had been wanting to work with this airbrush-deco style for a while, so this seemed like a great excuse. As I worked through some sketches, the circular nature of the dots came fairly naturally and helped switch the direction of the wording.
Quite honestly, I don't want to talk about the move itself all too much because I'd rather just move on. But for the sake of posterity, the move sucked.
I woke up at 5am in hopes of finishing up some last minute packing, but it wasn't enough. By the time the movers arrived around 10:30 or so, we still had to pack all of kitchenware, breakdown our bedframe, and a bunch of other little things.
The worst part came when halfway through loading up the truck, the elevator in our building stopped working. From there it quickly descended into one of the most stressful days of my life.
It was 100° outside, the hottest day of the year so far, and I just felt so worried for the movers that were helping us. To make things worse, we lived on a one way street. So parking a giant ass moving truck simply isn't an option. One of the movers would block off the street for a while until they got in trouble, then they would circle the block a few times, and repeat.
Once the truck was loaded up, I had to follow through with my foolish idea of biking over to the new apartment to meet the movers there. It was 4:30pm, blistering hot outside, and the only food I had consumed up to this point was two PB&J sandwiches, both of which I ate before 9am. The bike ride there largely consisted of my repeatedly telling myself "don't pass out, don't pass out, don't pass out…"
My saving grace was the three pizzas Kara had delivered to the new apartment. I don't think it was until about 8 o'clock that we actually wrapped things up.
The move kicked the absolute shit out of me. But it's over. It's over.
We moved successfully. Nothing broke. Nothing went missing. In case you're curious, we moved with Imperial Movers who were honestly great, and I'm incredibly thankful for their help. If you're moving and decide to hire them, use my name as a referral (I'll get some cash kicked back to me if you do).
Since moving in, we have very slowly started to unpack, settle in, and explore the neighborhood. Below are some really incredible hand painted signs we stumbled across.