The Camera Lens As Microscope
Investigating the Relationship of Person and Place
The lens carries the connotation of clarity—in pulling closer to and focusing in on the subject, photography and video capture a particular set of expectations within a place which attempts to remove the frame and become "truth." Between painter Hank Schmidt in der Beek, knitting artist Sam Barsky, and performance artist George Ferrandi, the synthesis of photography and their respective art forms stems beyond a means of documentary and becomes a contemporary investigation in the role of context and the significance of place. The lens in each of their cases becomes a microscope through which we observe how an individual can take control of a place and manipulate the expectations that come with it. These participatory projects which engage the artist reveal the role of the individual in place and how participation can breed a mutually beneficial relationship.
Painter Hank Schmidt in der Beek and photographer Fabian Schubert started the Und im Sommer tu ich malen series in 2009 which translates to "And in summer, I paint." This series is an ongoing collaboration between the artists also known as Painters Portraits where the two "are seeking out the plein-air locations of Cézanne, C.D. Friedrich, Gauguin, Hockney, Hodler, Kandinsky, Marc, Monet, Münter and others."1 It was in these landscapes and settings that the Impressionists had to overcome the repercussions of deviating from tradition. Similarly, in Hank Schmidt in der Beek and Schubert's project, the artist is defying tradition which has become synonymous with expectation. Schubert describes their project as "a conceptual and visual reflection about the picture-in-picture, a painting artist in the picture, a once painted landscape in the picture and a painted pattern of a shirt as a picture."2 Their pursuit of these impressionist landmarks becomes a pilgrimage wherein traveling to these sacred destinations as an act of devotion becomes an act of devotion to anti-academicism not the individuals, and the seeking of answers becomes the seeking of context.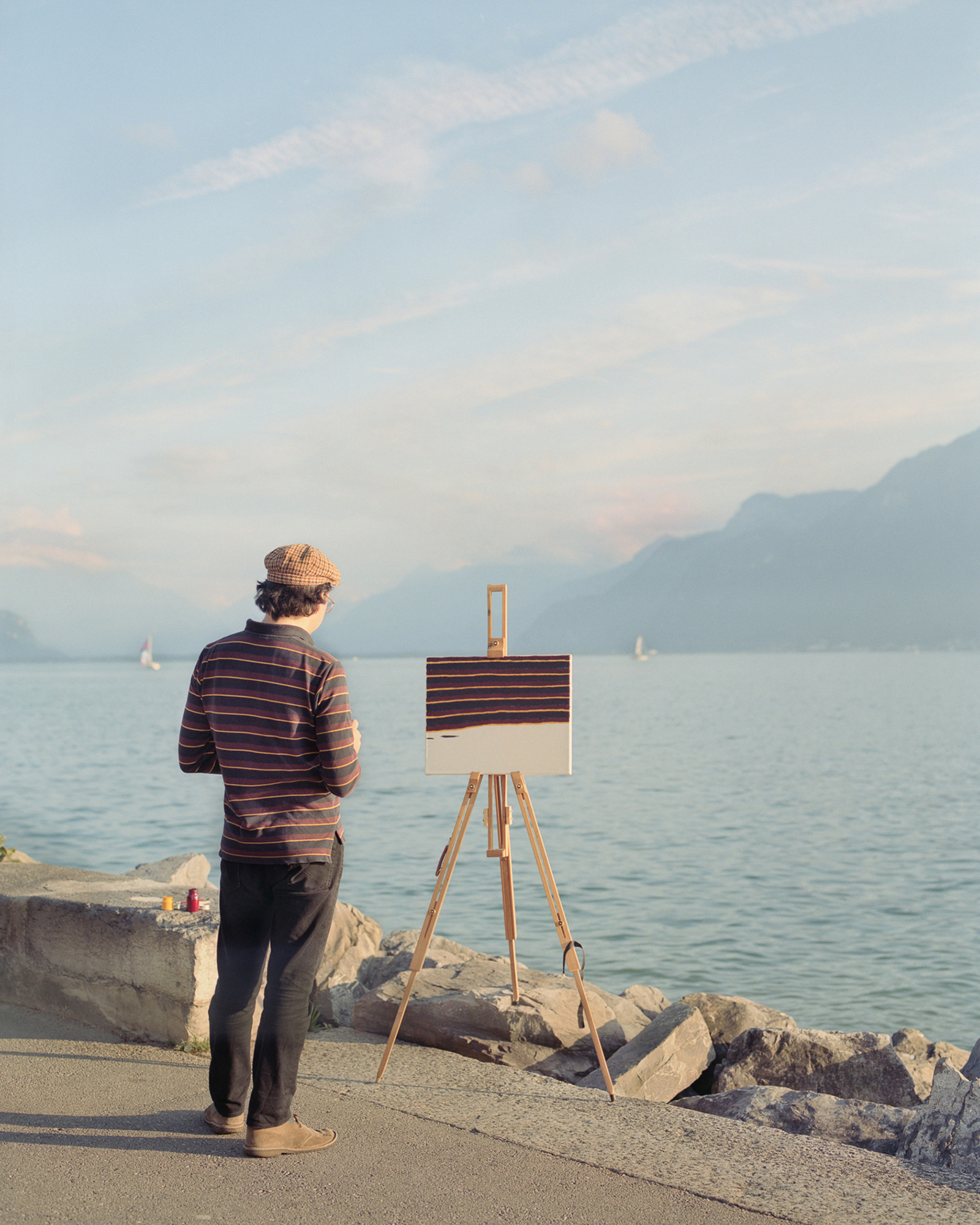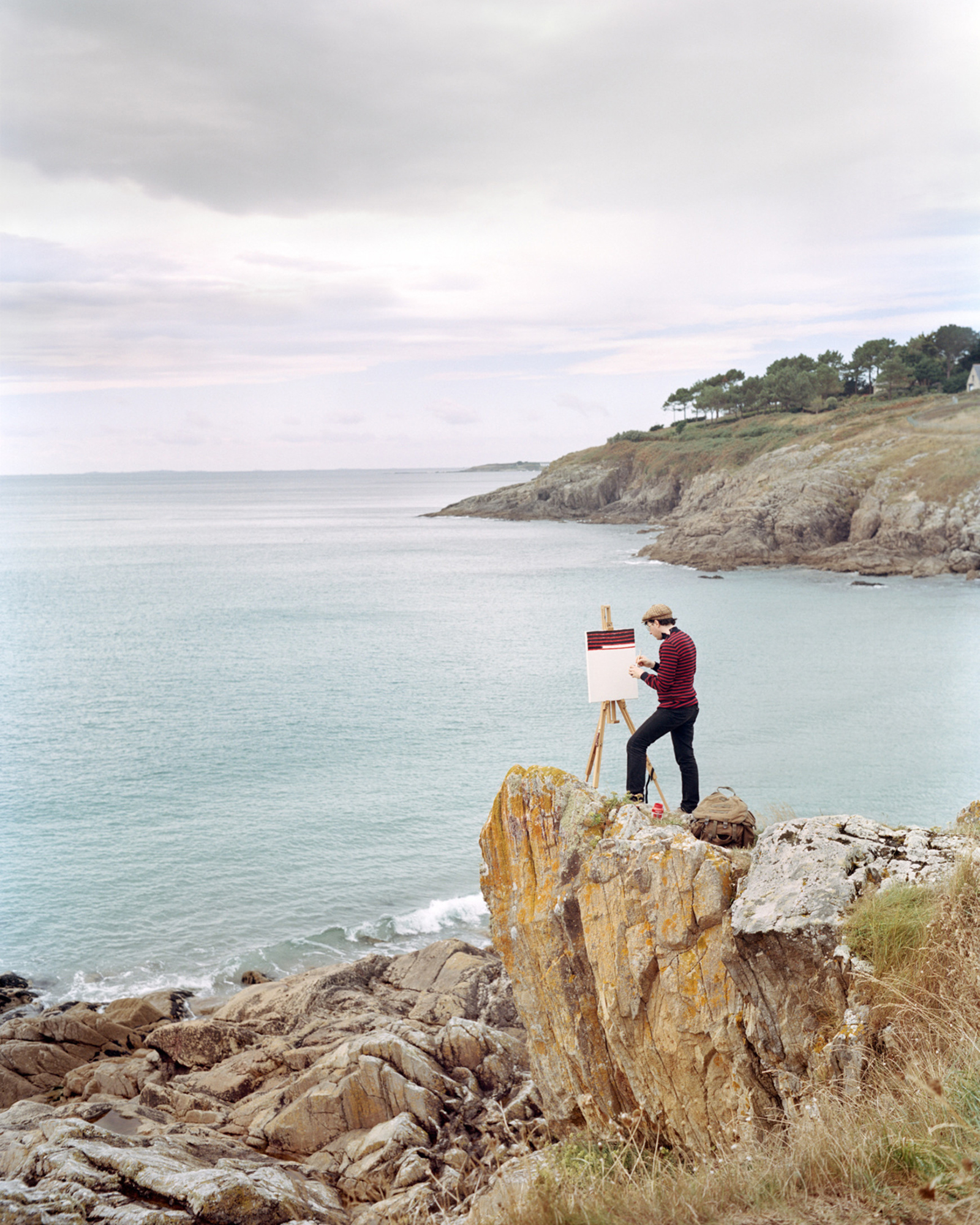 The multi-layered approach Hank Schmidt in der Beek and Schubert take reveals the individual as the works point of inception—a point of Impressionism often overlooked. Rather than the paintings calling to the landscape, the individual serves as a beacon of autonomy. Inherent in painting in public, more so when spectators are present, the artist is burden by the responsibility of fulfilling expectations. (In some sense, exceeding expectations.)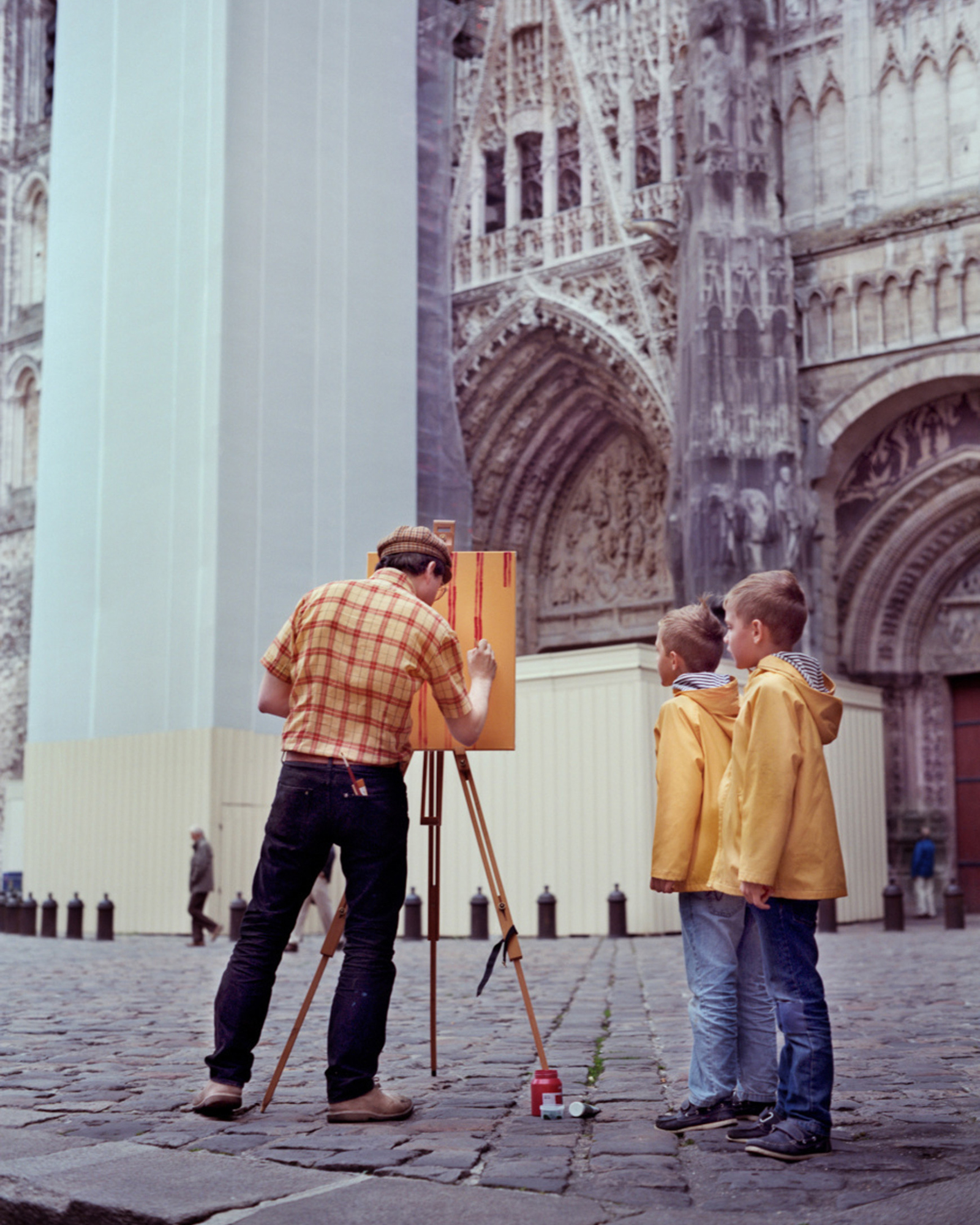 There's a nonchalance to each photograph which grants the artist casual deviation from expectation despite the counterfactual nature of it. Imagine the fascination of the kids in the last photo as they see a man painting in the distance. Let's imagine they're approaching the man from in the front and only are only able to see the back his easel and canvas. They're running over to see now what he's painting but why he is painting. They see that he is perched in front of the cathedral, and even at such a young age, they are primed to cast their own expectations. They pump their breaks as they reach the artist and drift into a U-turn in hopes of being amazed by the artist's rendering ability. Instead, the boys discover he's not even painting what's in front of him, he's painting the pattern of his shirt. In this moment, there becomes a shift in expectation—a shift in beauty where external expectations are trumped by internal realizations. Pierre-Auguste Renoir writes in his notebook, "It is impossible to repeat in one period what was done in another. The point of view is not the same, any more than are the tools, the ideals, the needs, or the painters' techniques."3 Since there's a sense of absurdity to Hank Schmidt in der Beek and Schubert, it's as though they're relieved of their responsibility to adhere to expectation and tradition, while simultaneously calling those very things into question.
Hank Schmidt in der Beek and Schubert are taking part in the same act of plein-air painting the Impressionists did, seeing what they had seen, and painting what they had seen. But what the Impressionists saw extended beyond what was in front of them. What they saw, just as you or I see, is defined by context—the context of the art industry, the context of the political climate, the context of their lives. What Hank Schmidt in der Beek and Schubert could see didn't differ much from what the Impressionist could see, but what they See (with a capital S) varies greatly. This project then becomes an investigation in establishing contemporary context.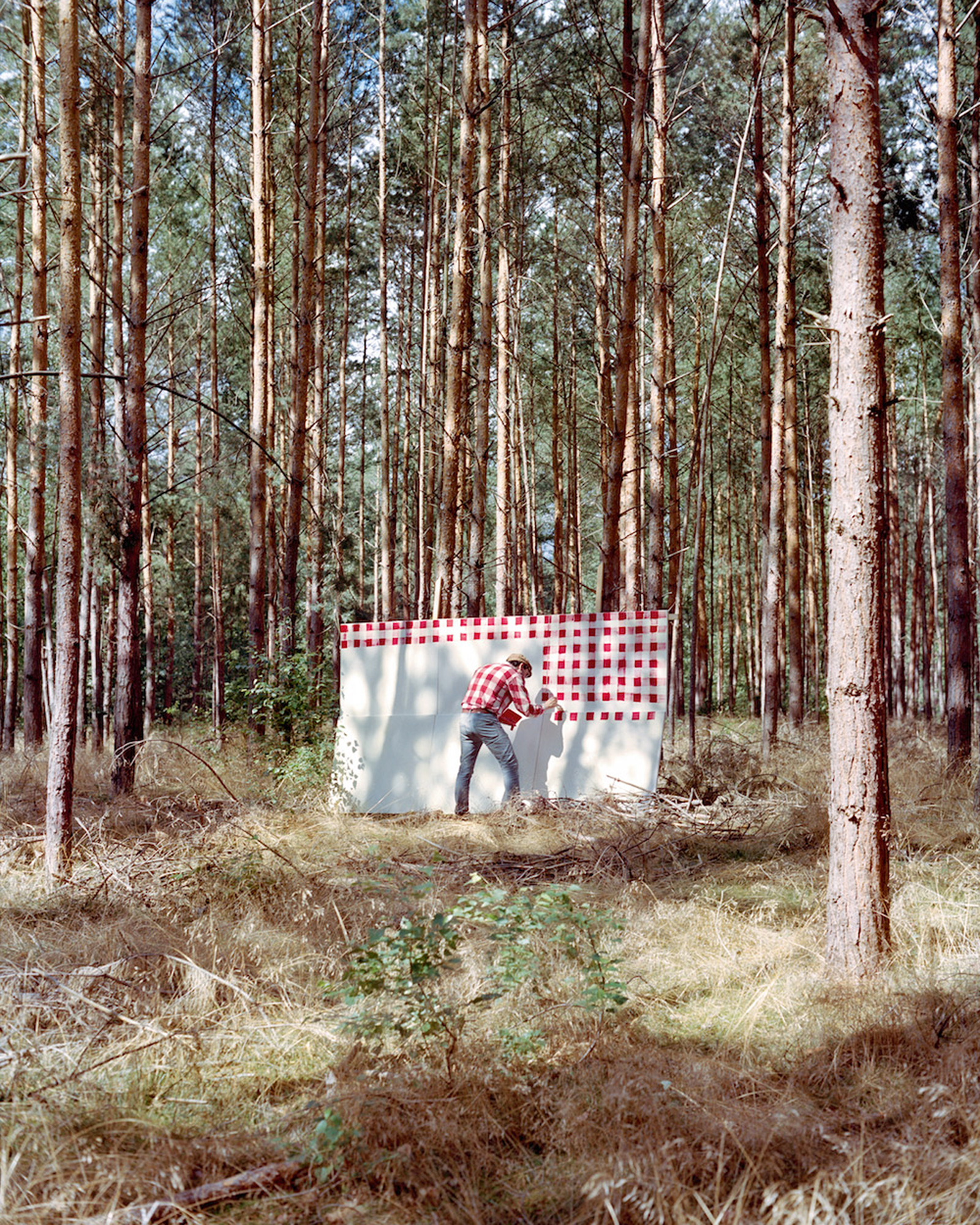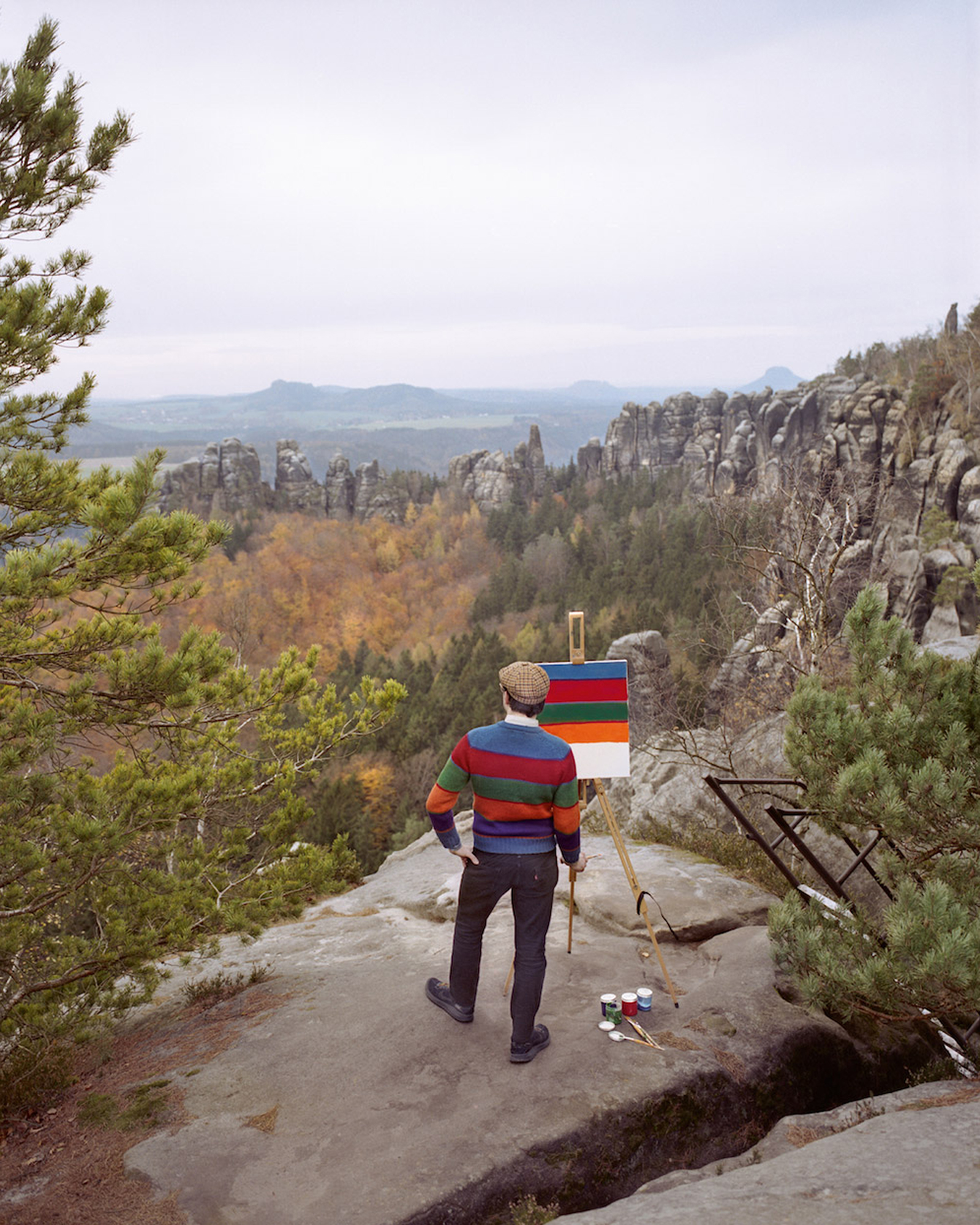 In many of these photographs, Hank Schmidt in der Beek is in pause and stepped back from his works in progress. Is this an intentional illusion to create the sense that the artist is meticulously stepping back and forth from his work as though to slowly and intentionally capture the scene in front of him? Is this a means to purposefully (and humorously) deceive the viewer? Or is it more so an unveiling of the landscape as merely a reflection of the individual? Even preceding the Impressionists, has landscape painting ever been objectively removed from the individual? It's as though Hank Schmidt in der Beek and Schubert are asking these questions by placing the picture in the picture, backdropped by another picture. Rather than pulling us further away, each layer acts like a lens of a magnifying glass that pulls us closer and closer in to investigate the role of Self.
With Hank Schmidt in der Beek and Fabian Schubert's project, the artist in the photographs evades the expectations of place by looking inward as a means of self expression while Sam Barsky's Artistic Knitting begins first by externally examining place to then serve as an internal representation of himself. As of January 2017, Barsky has been knitting scenic sweaters for 17 years amounting to over 100 sweaters.4 Unlike the Painters Portraits series which begin very deliberately and sought out specific famous plein-air locations, Barsky's Artistic Knitting took a nonchalant approach—stemming from hobby and blossoming into an artistic endeavor. "I started to take pictures unconsciously without the sweaters in mind," Barsky states, "like you usually take travel pictures when you're in a place. Before long, I had a collection of myself wearing the sweaters in the places they were made for, maybe about 10 or 15 like that."5 In dedicating months of time into this hobby—the epitome of personal pleasure—Barsky's work became a subconscious, intellectual pursuit wherein the pretentious air of "fine art" is removed.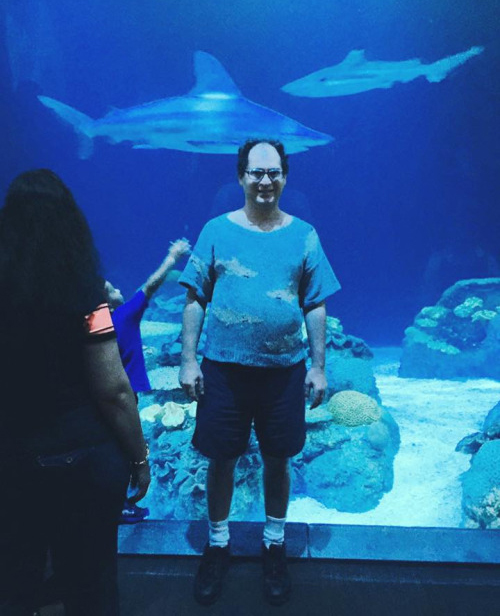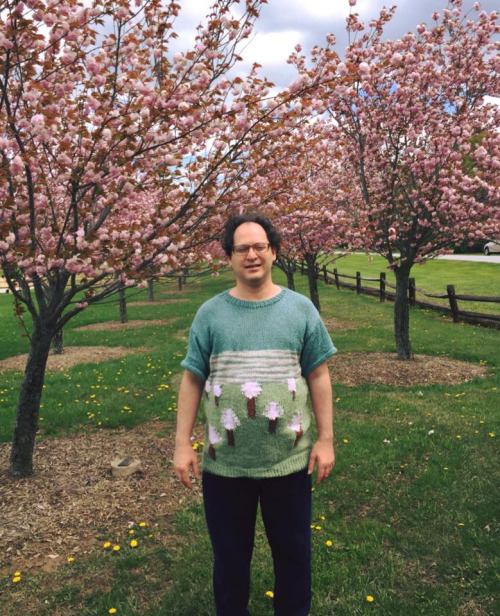 What began as the synthesis of two hobbies: knitting and traveling, Barsky soon realized he was in a niche of his own. He states, "It is the first time in my life that I found unusual artistic skills. I didn't even know that it was art until people were telling me it was."6 While his artistic ability remained personally unknown, Barsky was actively investigating the role of places and revealed their their level of influence.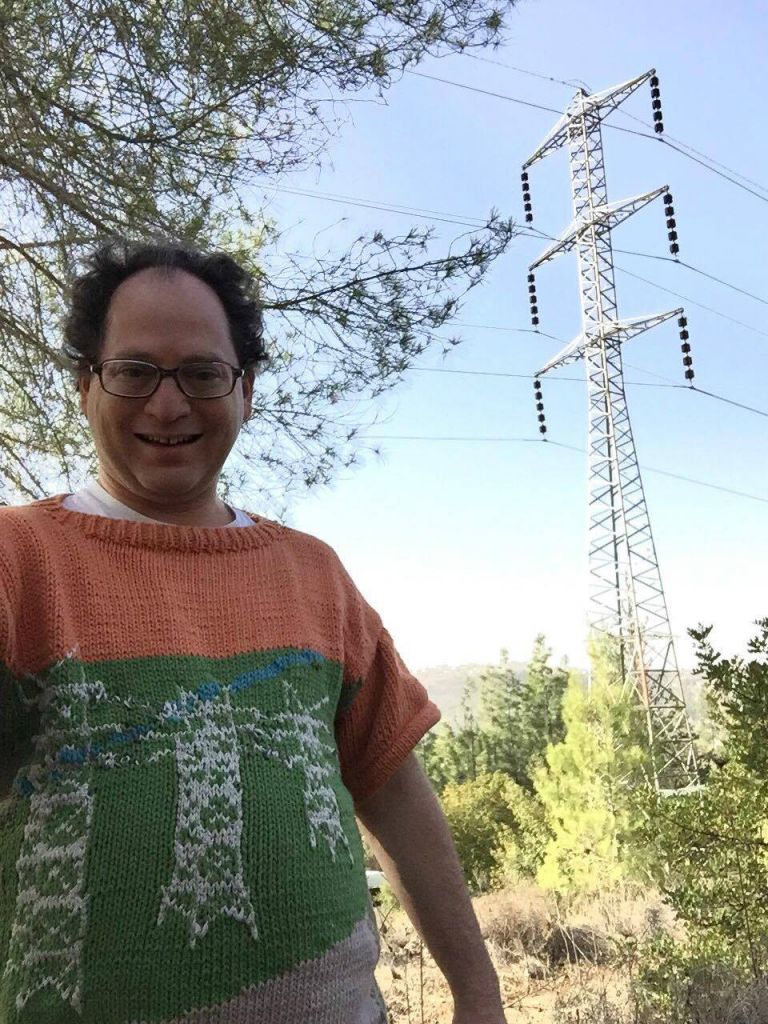 Just as you would be encouraged to do so whilst traveling, Barsky's sweaters are a more literal realization of what it means to "take in your surroundings." In the image seen above, Barsky displays his pylon sweater in front of the Israeli pylons. Inspiration for the pylon sweater simply stems from familiarity. "I see them all the time, in all my routine travels around the local area," he says. "They're everywhere, so pretty much anything that crosses my eyes is a potential sweater and the pylons are no exception."7 What makes the pylon sweater particularly interesting is the fact that a majority of Barsky's sweaters depict famous landscapes making this one appear as an outlier. However, each sweater isn't intended to fulfill a status quo and instead reflect the places, aspirations, and interests of the artist. Knitting the pylon sweater in specific reveal how the process—the physical labor—helps to develop a deeper connection to what it is that he's observing. There are various pylons across Israel but Barsky says, "I never would have noticed the difference if I hadn't knit the sweater. Having knit the sweater makes me pay more attention to them now."8 As Barsky continues to knit sweaters, he uncovers the symbiotic relationship between artist and place.
In 2012, George Ferrandi began her recurring site-specific performances on NYC Subway known as "It Felt Like I Knew You." Similar to Ferrandi's other projects, "It Felt Like I Knew You" stems from Ferrandi's experimental approach to telling a narrative whilst addressing "issues of vulnerability, impermanence, fallibility and spectacle."9 The New York subway trains, despite transporting approximately 4.3 million people per day,10 remain a very inhumane place wherein individuals keep to themselves and very few interactions of friendliness or compassion truly occur. This strange relationship within the subway where humans are reduced to the very mechanical and robotic environment they occupy seems to have sparked Ferrandi's "It Felt Like I Knew You" project as an attempt to unveil our actual humanity in a place we're told it shouldn't exist. Rather than addressing the walls we place around us as impenetrable, Ferrandi approaches them as malleable material—something she can reshape. On her website, Ferrandi provides a further description of the project:
"I ride the NYC subway trains, usually in the evening when the seats are full. I focus on the shape of the space between the person sitting next to me and myself. I attempt to mentally and emotionally re-sculpt that space. In my mind, I reshape it- from the stiff and guarded space between strangers to the soft and yielding space between friends. I direct all my energy to this space between us. When the space palpably changes, and I completely feel like the stranger sitting next to me is my friend, I rest my head on that person's shoulder and see what happens."11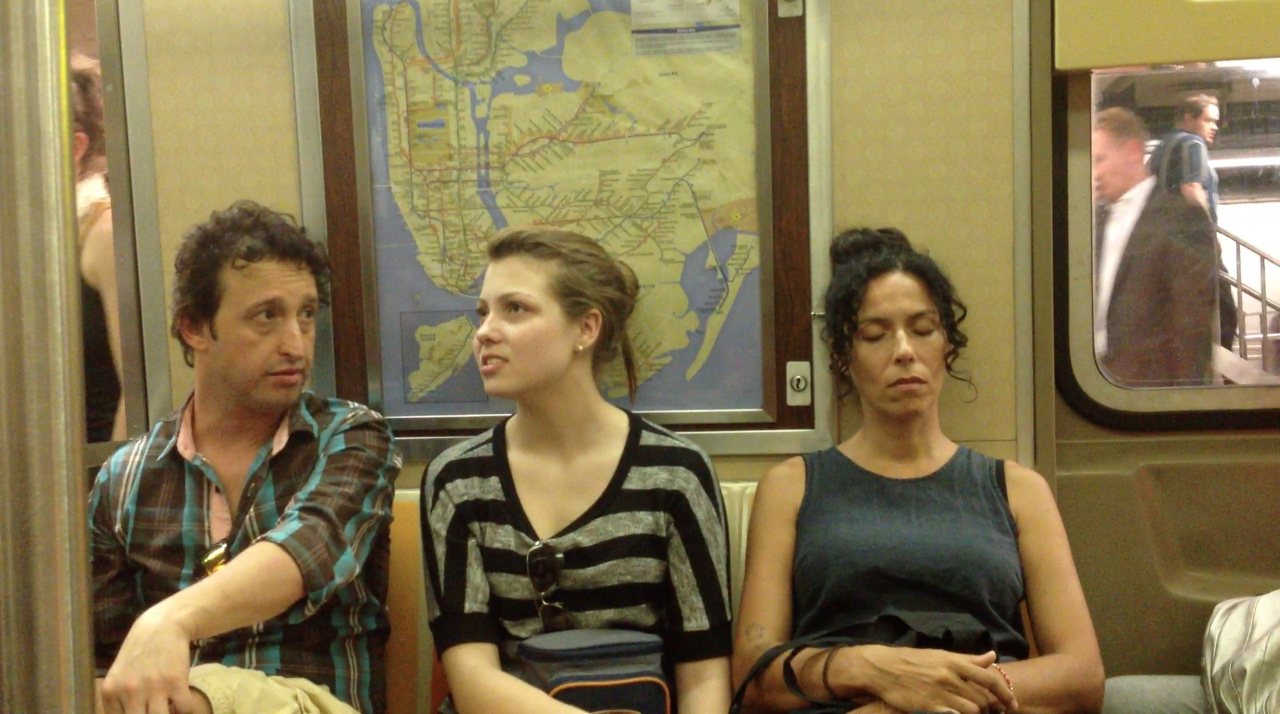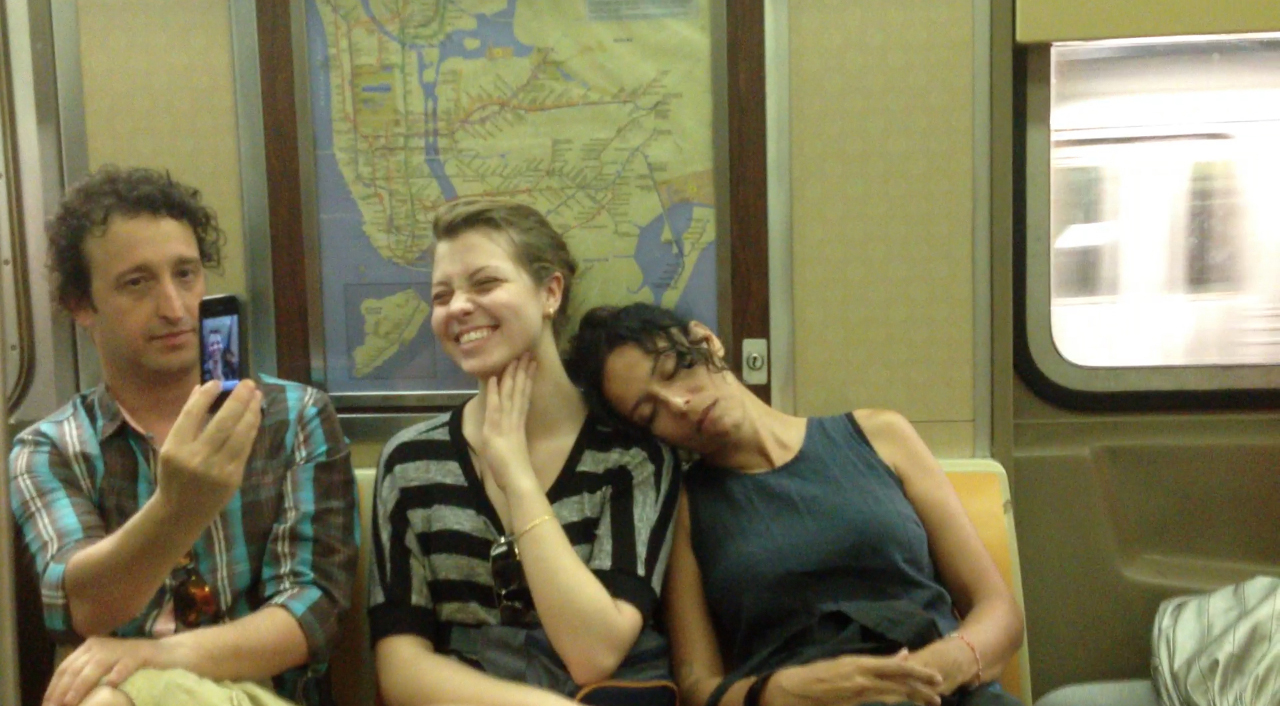 The "seeing what happens" aspect of these performances is made special by the expectations which inhabit the New York subway. It's as though there is set of unspoken rules cast over the trains—interaction with strangers is frowned upon and avoided, conversations are limited, and intimacy is discouraged. In this context, in this place, the simple gesture of resting one's head on another shoulder is far from simple. This gesture—often perceived as an accident—requires both courage and trust from both partners. Ferrandi's performances then became an active cry for intimacy and connection in a place void of these two things. In stirring up the expectations of this place and by watching the reactions of these strangers, Ferrandi is attempting to restore humanity in a place which otherwise squanders it. While Hank Schmidt in der Beek and Fabian Schubert Painter Portraits can involve the public, they don't require their presence or participation and rely more so on place. Sam Barsky's Artistic Knitting follows suit in that it combines the artist and place but doesn't necessitate the public's engagement. Ferrandi's project furthers the investigation by extending what we define as place as solely the physical, static setting to including the public's presence. While the first two projects reveal how the internal of the individual influences the external and vice versa, Ferrandi's performances shed light on how a place can inform our sense of humanity—our sense of belonging.
The camera lens often creates a disconnect between reality and fiction by actively seeking to remove the frame—to suggest the perception of reality by catering to viewer's expectations. In these three projects, the artists unapologetically embrace the frame as though to tell the viewer upfront that they're looking through a microscope. Each project serves to invite the viewer to peer through the lens and investigate not only what a place means or what our expectations of that place are, but how might one's presence alter a place or bring it significance. The bridging of photography and painting, textiles, and performance in each of these projects reveal place less as a constant and more as a reflection of the individual. Each of these projects require an active engagement of the artist themselves wherein the artist is not only present but is integral to the work itself. However, it's more so through the artists relationship with the place that their internal investigation of themselves become amplified.